Have you been saving all your life for a demanding trek through Nepal to reach Everest base camp?

Are you considering a series of bungee jumps this summer in New Zealand, or do you want to try cave diving in Belize?

Maybe you're an avid scuba-diver eager to explore the Great Barrier Reef, or an amateur baseballer off to compete in Italy.

If you're planning the trip of a lifetime, you might find yourself outside the confines of regular travel insurance.

Standard travel insurance covers you for normal travel-related experiences and activities, like visiting a nature reserve, swimming on the beach, or eating street food in Bangkok. It does not, however, cover you for more extreme, unusual, or competitive experiences like those mentioned above. But all is not lost. You can take your extreme vacation and get travel insurance for it, too – by buying a travel insurance extension for extreme, competitive, or winter sports.
Extreme sports coverage
Depending on your vacation plans, you might need one of these travel insurance extensions. Here's what each of them covers, so that you can choose the right one for your holiday.

Extreme sports coverage can include:
Off road biking or motorbiking, motocross, 4×4 off roading, and extreme riding and driving
Base jumping
Hunting
Sand surfing
Pit caving
Jet skiing, racing or speed boats, surfing, windsurfing, cliff surfing, water skiing, and surfing parachutes
Diving
Yachting, kayaking, rafting, and bananas
Abseiling, mountain and cliff climbing, and wall climbing
Bungee jumping
Balloon flight
Skydiving and paragliding
Winter sports coverage can include:
Skiing
Tobogganing
Snowboarding
Cross-country skiing
Snowmobiles
Competitive sports coverage can include:
Martial arts
Ball games, including football and basketball
Racket games such as tennis or baseball
Swimming and formal swimming
Skiing
Running, triathlon, iron man and cycling
Dancing
Gymnastics and athletics
Horseback riding
Weightlifting
Ice skating
Boat racing
Desert racing
Extreme, competitive, and winter sports coverage generally include the same medical coverage that's part of a standard travel insurance policy. That means that doctor visits, hospital services, medication costs, ambulance fees, and even the cost of medical repatriation to Israel are all paid for by your insurance, even if you do only need them because you intentionally threw yourself off a cliff – er, went paragliding, that is.

Meet Eli: Extreme Sports Coverage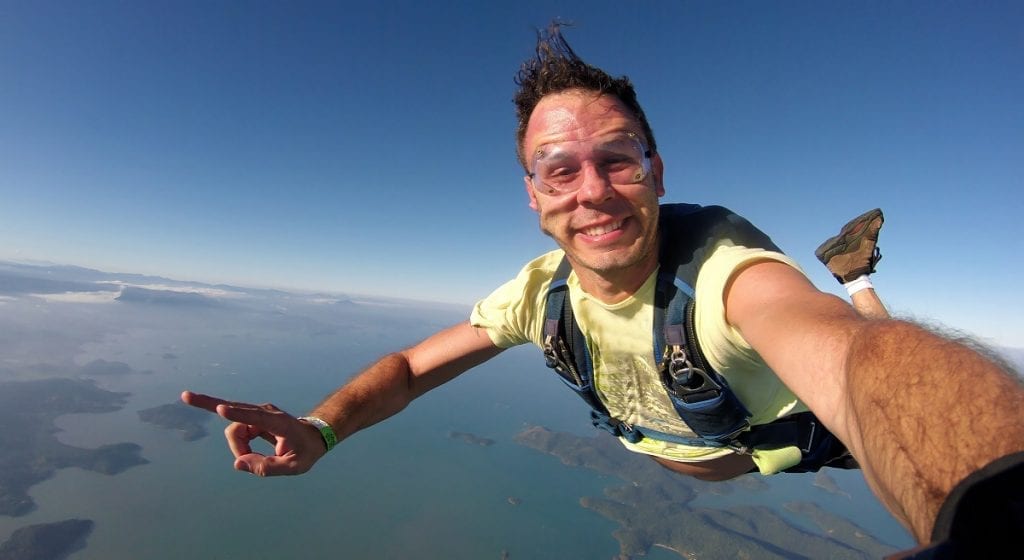 Eli finished his army service, and like many post-army Israelis, he was desperate to let off some steam. He went to Georgia for a week with three friends, excited to try the extreme sports that the country is famous for. Eli was especially looking forward to skydiving. At his mom's insistence, Eli bought extreme sports coverage as an extension to his regular travel insurance.

Eli loved skydiving so much, he went up three times. The third time, he landed awkwardly and twisted his ankle. It was a good thing that his extreme sports coverage paid for his ER visit, x-rays, and pain medication. It didn't stop his mom from worrying, but it did cover all his out-of-pocket costs.
What else does travel insurance cover?
Most travel insurance policies also include trip cancellation insurance. This covers you in case you have to cancel or shorten your trip due to events outside of your control, like the death of a close family member, an illness, a house fire, or a nationwide call for reserve army duty.

It's important to note that travel insurance policies vary from one company to another, in terms of the amount of coverage you'll get, the cost of premiums, and exactly which incidents are covered.

Hopefully, you'll never need your travel insurance, but if you end up like Eli, you'll sure be happy that you bought it.